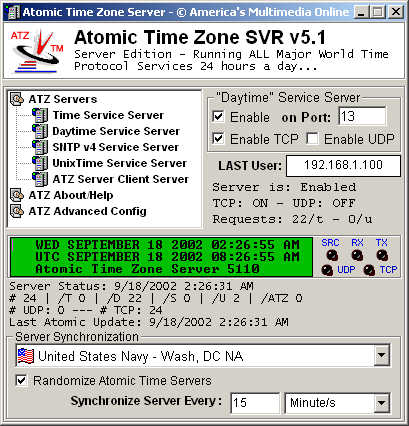 Atomic Time Zone Server comes with preset default settings. It defaults to the North American region, and selects a Time Server for the Server itself based on this region automatically. You may change your region under Advanced Settings. ATZ Server also defaults to each time protocols "default" port, however you may change this easily by entering a new port and pressing enter.

Immediately you will notice the "Enable on Port" Server checkbox. This simplicity enables you to enable or disable any server immediately by simply clicking the enable checkbox for the selected server. You'll notice there are 5 servers, each with their own Enable checkbox, and each with their own Enable TCP/UDP checkbox. To select a particular server, simply select it from the list on the left. The TCP/UDP controls whether or not each server operates both protocols simultaneously.

Below each server protocol is a readout of the IP address of the last time request it received. In the center is the green LCD like readout displaying the actual server time and the actual UTC time. Each LED like display to the right will light up green when activity is present. RX is for receiving data, TX for transmitting, SRC is for the Atomic Clock Source, and UDP and TCP denote each protocols use.

The Server Status will display a quick snapshot of the total usage of each server, and this will be updated immediately as usage changes. Furthermore, each selected server will have its own status under its options.

Under this Server Status you'll see the main Server Atomic Time self synchronization options. Since the Atomic Time Zone Server itself needs redundancy and it's own atomic clock source, here you set the time server/s it will use, and how often.

About/Help The About and Help area gives you more information about Atomic Time Zone Server, allows you to enter your registration code, and access this or the online help.

Synchronize Every: 5 Minute/s can easily be changed to 50 minutes, or seconds, or 5 hours. Once you change these settings they take effect immediately.

Advanced In the Advanced settings area, you will find options for opening ATZ Minimized, using the logging functionality, and selecting your Region.

Now Atomic Time Zone Server is setup to ready to use.

You may test your Atomic Time Zone Server by typing "telnet name of computer or IP server is running on port".
On one of our Windows 2000 Servers we would do this by opening a command prompt and typing: telnet thisserver 13
Alternatively, you may also download Atomic Time Zone Regular Edition and use it to test the server. To do this simply disable ATZ Regular editions "Randomize Time Server" checkbox, and enter the name of the server computer ATZ Server is running on in the Atomic Time Server box.

You may also install an ATZ Server Client to test the server. To do this, please see the help for the main screen here.