Internet Explorer 6 Public Preview


&nbsp 03/26/2001 9:02:07 PM MST Albuquerque, Nm
&nbsp By Dustin D. Brand; Owner AMO



Internet Explorer 6 Released as Public Preview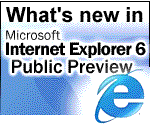 REDMOND, WASH. -- Monday, March 26, 2001

Internet Explorer 6 has entered Public Preview. Beta's of IE6 have been available to developers for many months now, but now the general public can download and preview IE6.

New features in IE6 include integrated MSN Messenger, support for the upcoming Windows XP Themes, many advanced web functions, and more.

If you'd like to participate in the Internet Explorer 6 Public Preview, please do so by clicking the image below, and then clicking the download link.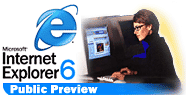 Related AMO Articles:
Internet Explorer 6 leaks out 01/30/2001 5:16:00 PM MT