Overview of About Screen
The About screen contains the version specific info for ATZ Server.NET Edition, the abilty to enter your registration code and information, a link for a Secure Online Purchase, and a Register button.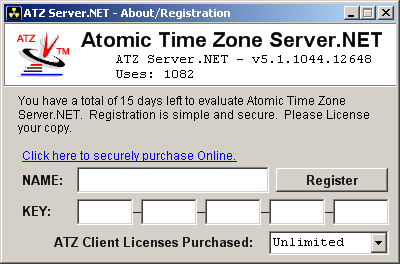 Registered Version - When registered, the above image displays your registration info, the number of licenses you have, and your registration date.

UnRegistered Version - In the above screenshot, text indicating ATZ Server.NET is a DEMO and unregistered as well as the time left in the demo is displayed.
Secure Online Purchase Link - Click this link to register ATZ Server.NET securely online.
Register Button - Once you have entered your registration info including your NAME, the ATZ Server.NET KEY that was sent to you, and the number of client licenses you purchased, press this button and ATZ Server.NET will be registered.

If you had to reinstall Windows and ATZ Server.NET and have lost your ATZ Registration Info, please send us your Purchase ID, NAME and Phone Number and we will cross check it with our records and send you your registration info again.