See who is using P5 Software.
"It was only a matter of time before they got caught."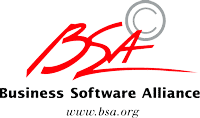 Business Software Alliance
The Business Software Alliance (BSA) is the voice of the world's software and Internet industry before governments and with consumers in the international marketplace. Its members represent the fastest growing industry in the world. BSA educates computer users on software copyright; advocates public policy that fosters innovation and expands trade opportunities; and fights software piracy. BSA worldwide members include Adobe, Apple, Autodesk, Bentley Systems, CNC Software/Mastercam, Macromedia, Microsoft, Symantec and UGS.

Read AMO's press release announcing BSA's use of P5 Software.
Purchase P5 License/s Now
Each copy of P5 Software for Gnutella requires a P5 License. We sell P5 Licenses in single, 5 and 25 sets.
View sample P5 Reports
One Sample P5 report was created by P5 using it's database and the criteria of "Metallica" and targeting the ISP "home.com".