P5 Software for Gnutella - Sample P5 Reports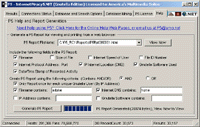 Viewing the P5 Reports listed below will demonstrate to you just how targeted your P5 reports can be. These reports were created using P5 with it's database created using specific keywords, yeilding a broad P5 Database which could be targeted using the P5 Reports like demonstrated. These P5 Reports demonstrate targeting specific ISP's, specific IP Octet's, and more.

Once you've generated your P5 Reports, you may instantly view them and later print them from any web browser.
Purchase P5 License/s Now
Each copy of P5 Software for Gnutella requires a P5 License. You may purchase P5 Licenses either one, 5, or 25 at a time.
View P5 in Action
Take a look at actual screenshots of P5 Software for Gnutella in action.

Have a Question? Contact Us.

Read the P5 Article from the Owner of America's Multimedia Online